A friendly environment is given to the children providing the facilities needed for the mental as well as physical growth. Each class room is spacious and well ventilated. A big playground with nature's wealth, the trees, gives the ambience to play.
LIBRARY:
Special attention is bestowed on students to improve their reading habit and skill. A spacious library with an interesting collection of books and magazines are available. Students are encouraged to make use of the rare collection of reference books to enhance their knowledge. Internet facility and e-library are set up for the students to explore the endless realm of knowledge.
Well equipped Chemistry, Biology and Physics labs are created to impart practical knowledge and to promote 'learning by doing'.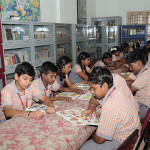 Library and Library Rules:
A new spacious well furnished library is provided
Students are permitted to borrow only one book at a time
The books must be returned before the due date
Strict silence should be maintained in the library. In case of my damage to the book, the borrower will have to pay its full cost
Reference book shall not be given out of the library.
Book issue timing: 3.30pm daily on working days
Computer Lab
Students provided with more 'hands on hours' in the Computer lab. "Learning through Computer" with robust and user friendly softwares are provided to learn rhymes, word building identifying the objects etc. Systematic computer education is also provided by well qualified and experience teachers.
TATA CLASSEDGE
An innovative and comprehensive educational solution from Tata Interactive Systems (TIS) – is designed to help teachers deliver high quality instruction, with an effective blend of classroom activities and interactive multimedia demonstrations.
Merits of ClassEdge
Provides effective, short-duration multimedia elements that help students visualize complex concepts
Offers worksheets designed to promote critical and creative thinking
Enables efficient use of teacher time through interactive teacher tools
Facilitates objective-linked practice and assessment
Utilises advanced technology, including interactive whiteboards
And non-obtrusive projectors
Updates content through cloud technology offers lesson plans designed to aid effective teaching.
MONTESSORI
Montessori education for children aged 2 – 5 is imparted under the Directorship of Mrs. AarthiMurali, founder of Pincushion Montessori International School in India, She has undergone Montessori training in USA and has more than ten years of experience. In this type of education, we develop a strong sense of independence self-confidence and self discipline especially from the age of 3 to 6. It is first of its kind inArcot. We have air-conditioned class rooms with all the study materials required for this type of education and well trained teachers conduct the classes every day. We are following the syllabus prescribed by Pincushion Hill Montessori school, USA. Every reports of children are sent to the parents and open house is conducted every term.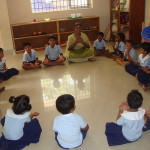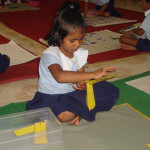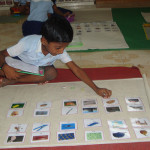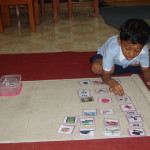 WHY MONTESSORI
Learning the right answers will get you through school, Learning how to learn will get you through life! Montessori teaches students to think; not simply to memorize, feedback, and forget!
The Montessori system recognizes that the students need to develop a strong sense of independence self-confidence and self-discipline especially from the age of 3-6. They must be willing to make and learn from countless mistakes. This suggests an education of the heart as much as an education of the mind.